High Rate Clarifier/Thickeners
.
The Enviro-Clear® Clarifier/Thickener represents a significant advance in the technology of liquid/solid separation.
– Deeper feedwell

– Submerged feedwell discharge
– Radial distribution of feed
– Faster separation
– Achieves superior effluent clarity and high solids underflow in one operation
– Higher solids concentration
– Space requirement reduced down to 1/5
– Small size reduces cost of fully enclosed units
– Quick response assures tight control
– Short retention time limits secondary reactions
– Handles wide range of particle sizes
– Accommodates large variations of pulp feed and solids concentration
– Less sensitive to temperature change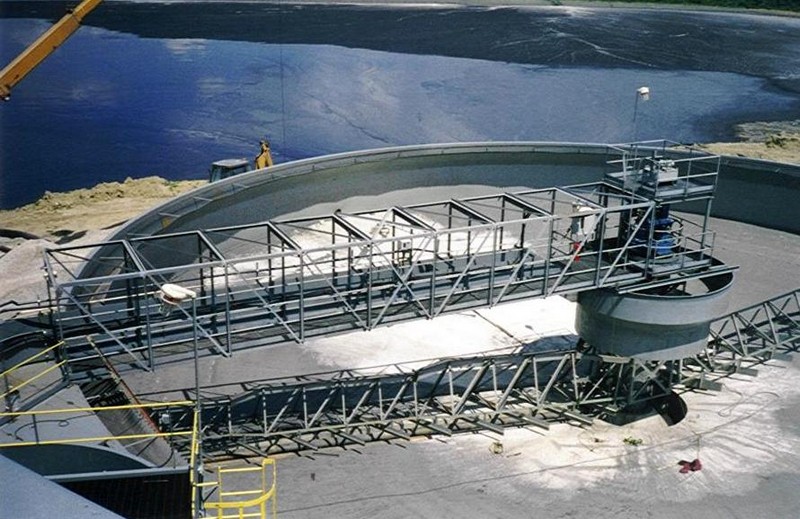 – Start-ups and shutdowns are faster
– Feedwell dilution or External dilution
– Optimizes flocculant usage resulting in substantially less flocculant
.
Tanks can also be supplied as part of the Clarifier/Thickener package.  Modern materials and design methods are used to supply both slab supported and free standing tanks.
Enviro-Clear®'s engineering and design services will customize the equipment to meet your requirements.  Enviro-Clear® bridge and center pier drives are proven the most reliable in the industry.
.
Enviro-Clear® Company, Inc.
152 Cregar Road
High Bridge, NJ 08829 USA
Phone: 001-908-638-5507
Fax: 001-908-638-4636
Email: info@enviro-clear.com
.
2014 Enviro-Clear Company Inc.